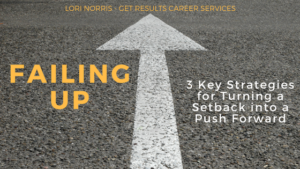 Full disclosure, I'm not writing this today because I am such an expert at recovering from failure. I am writing this today because I recently experienced a professional setback. I had been presented an amazing opportunity and lost out on the deal to a larger company. I'm not going to lie, this one hurt – for lots of different reasons. However, this loss sent me on a quest to figure out how to best pick myself up, dust off and turn this into an even greater success.
I like to call myself a cautious optimist. I hope for the best and I truly believe that everything happens for a reason. However, I also believe in being proactive, in taking initiative and planning for many different contingencies. I have no fear that I will come out of this situation stronger than ever. Therefore I decided to share my three-part strategy with you.
Step 1: LOOK AND LISTEN
I believe the first step to recovering from a failure is to evaluate the situation from all angles – as objectively as possible. Seek out the perspective of others to identify the root cause of what went wrong. However, we REALLY have to listen to what we hear, whether we like it or not. Try to take your emotions out of the equation when evaluating the situation.
From a job seeker perspective, when we fail to land that job we tend to take it as a personal rejection. Use every interaction with an employer as an opportunity to learn. Realize that for the company, hiring a candidate is a business proposition and the reason you don't get the job is rarely personal. It never hurts to ask for feedback about why you were not selected, you may just learn valuable lessons you can use when you pursue the future opportunities that WILL come your way.
Step 2: LEARN
Once we take the emotions out of a failure, we can get a fresh perspective on the situation. Often we are so invested in an opportunity that we don't take the time to evaluate whether or not it is the right thing for us. We are so caught up in getting to the "yes" that we don't take the time to ask ourselves if this is truly what we want.
This step is about learning from your mistakes and changing your approach in the future, but also taking the time to learn if we were even headed down the right road in the first place. As a job seeker, ask yourself if you were targeting the right kind of company, the right level of job or the right industry that fits your personality, your transferable skills and your long-term objectives. Use every setback as an opportunity to hone your approach and sharpen your focus.
Step 3: LAUNCH
Once you have evaluated the root cause and you have learned your lessons, DO NOT hesitate to put yourself back out there. Don't spend so much time analyzing the failure that you don't take further action. If I'm being honest, I put so much time, attention and effort into this new potential opportunity that I took my focus and my effort off of the direction in which I truly want my business and my career to travel. It took me a bit of time to recover, but I am back to focusing on what I learned in the first two steps.
Think of failure as your chance to start fresh, except that now you have more information and knowledge that you can apply to your next attempt. Though I don't know who said it, I saw this quote and thought it was very relevant "if you're afraid to fail, you'll keep failing forever." Your next attempt will be better, more focused and targeted toward the success that you truly want to attain. Keep trying, the world is waiting for the gifts you have to offer!
Drop me a comment below and let me know what strategy you use to get back in the saddle after a failure.
In case we've never met, my name is Lori Norris, the founder of Veteran Transition Network and Get Results Career Services. I love to educate and inform job seekers to take control of their self-marketing skills and achieve success. I have dedicated my career since 2005 to educating and assisting veterans during their transition out of the military. If there is a subject you would like to know more about, please leave me a comment below and I will do my best to address it in the near future for you.